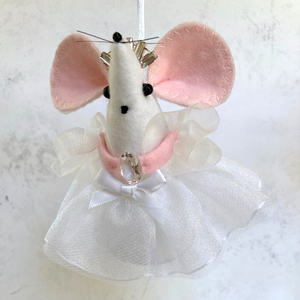 Mischief Mouse. The Crystal Princess Limited Edition.
Our new addition to the Mischief Mice range is the beautiful 'Crystal Princess'. This year Kym is stitching a limited edition of just 20. Each one has a Crystal tiara and carries a single crystal too. The crystals are Swarovski. A beautiful gift for your own little princess and a sparkling addition to your Christmas tree.
'Crystal Princess' is a Christmas decoration, not a toy.