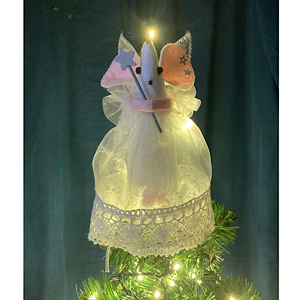 Mischief Mouse Tree Topper
Our latest addition to the Mischief mouse family is The Christmas Fairy tree topper. She is dressed in shimmering organza trimmed with lace and glittering snowflake wings. A silver coloured star tops her wand and she has more tiny stars adorning her ear.
Each one is handmade by Kym at Crumble cottage
She measures 19cm from the tip of her nose to the hem of her skirt.