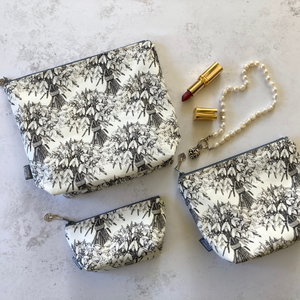 Snowdrop Pouches
Our beautiful Snowdrop pouches are handmade in a cotton panama fabric with a waterproof lining. They are zipped with a pretty heart-shaped zip pull. Available in 3 sizes. 
Large - (27 x 20 x 8 cm)the perfect wash bag,
Medium - (22 x 15 x 8 cm) handbag size ideal for make up,
Small-  (17 x 8 x 6 cm) a pretty purse or jewellery pouch.